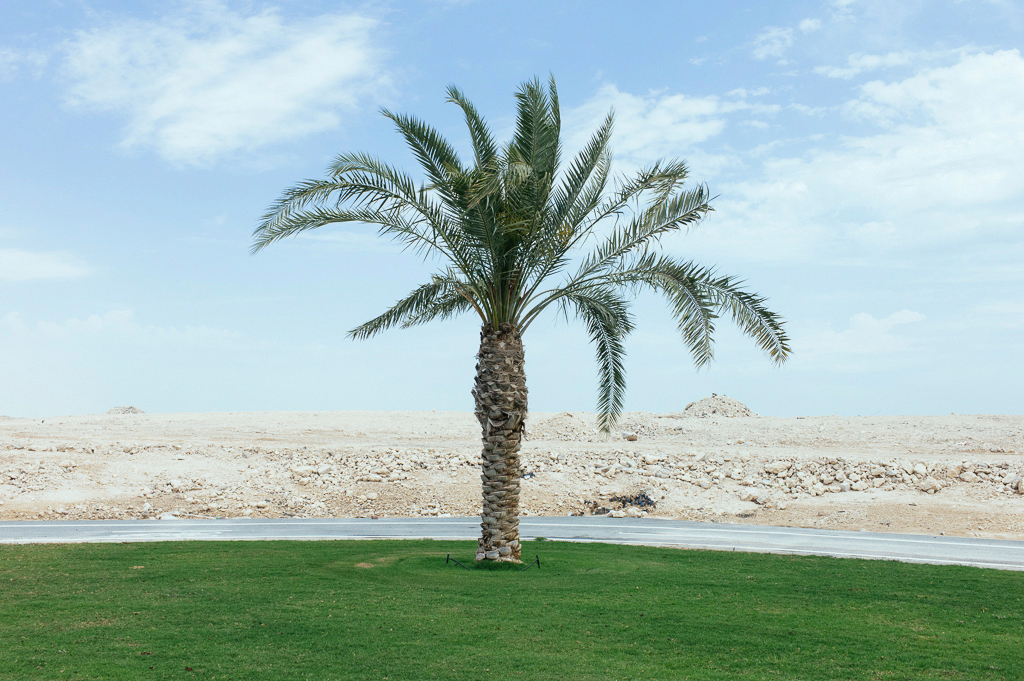 Nepal-Qatar: The Void and the Fullness
---
Workshop "Circuits of Labour, Obligation and Debt: International Migrants, Their Families, and the Migration Industry in Nepal", University of Oxford, Institute of Social and Cultural Anthropology, 13-14 March 2017
Foreword
The following text is intended as a "preface" to the photographs of the series Nepal-Qatar, the Void and the Fullness, that have been projected and commented during the mentioned workshop.
Abstract
About one third of the active male workforce of Nepal is believed to work abroad (1). The remittances they send back home amount to 25% of the country's GDP (2).
Focusing on the particular case of Nepali migrations to Qatar, this photographic project is an attempt to understand the long-term human and societal costs of this income, at once for the individuals, the families, the social fabric of the villages in Nepal, and the country at large.
Photo-essays addressing this issue generally illustrate – rather than interrogate – the hardness of the labourer's work in Qatar (3), or depict the various stages towards their departure from Nepal (4). However, few photographers have looked at migrations from the perspective of both the daily life in the labour camps and the consequences of the absence of men at home.
My methodology consisted in visiting some of the most migrations-affected districts in Nepal, in which I collected stories and portraits from families whose male members were in Qatar, then to follow the same process with the relatives of these very families in Qatar.
This double approach made me be perceived by the workers abroad as a messenger from home, reviving the links that migration has disrupted. As such, I was given their trust and granted access to their camps, where I took the time to listen to their stories, document their environment and share their daily life.
Through a dialogue between the visual and oral material collected on either side of that same solitude, this body of work does not purports to provide the viewer with ready-to-believe answers to the question it raises, but rather aims at opening a space of freedom in which the viewer be able to build up his/her own idea of the situation.
Personal relation with Nepal
I have been looking for something in Nepal for 23 years now. First as a trekker, then soon as a mere wanderer, fascinated by what I was seeing – and from the beginning, equipped with a camera. In my early travels, photography mostly consisted in reproducing the clichés that I had inherited from my readings of travel narratives and coffee-table books, draining off the picture from everything that didn't match with these readings as a sole escape to the deceptive aspects of the present. In other words, photography was about validating some other people's fantasised vision of Nepal.
But by trying to do so, I was always feeling like passing by, leaving people too early. Far from Henri Michaux's warning: "No, no, not gain. Travel to lose. That's what you need" (5), I was accumulating – pictures and destinations –, watching the world from a safety distance. Staying at the surface.
So I came back every year, sometimes more often, and looked deeper into Nepal. Henceforth as a simple human being, concerned with the fragility of lives. I learned to know this country, its complexity, its beauty, its darkness, and its language. I eventually gave up travelling to anywhere else.
For a while I thought of myself as a photojournalist in Nepal, bound to witness the changes that were occurring in its society. However, while photography certainly can tell the mutations of a country by trying to stick to the very facts and making arrangements with the elusive idea of truth, I soon understood that this was not a job for me. I realised that I was able to better understand what was at stake by looking just next to the facts, or under them, or behind them, or who knows where else in their vicinity. Staring at the afterglow of reality, I searched in another territory for the manifestations of another truth, less self-assured – in fact, closer to a doubt than to a truth. Not so much with the intention of denying reality, but instead, in an attempt to accept the weakness of photography when it comes to representing it in an objective way. In other words, I learned to acknowledge my subjectivity.
Photography then began to be a matter of sounding out the banality of the everyday, and of making myself available to the fragments of poetry that would let themselves be recognised. I spent a lot of time living with people, learning to simply be with them. I was taking very few photographs, in the greatest slowness possible: common objects, landscapes, some interiors, and when it came to people, only of persons with whom I had shared something important, and only after hours or days spent together. By filling the frame, and hopefully the outside of the frame, with this banality, I gradually created a language that, image after image, drew the borders of a universe that soon felt more acceptable to me than the real one. This is my Everyday Epiphanies series (6).
But even so, taking pictures of people was still too intrusive a process. I started to feel the necessity to lessen the sacred aura with which I had for years conceived the photographic gesture, and to bring the act of taking a photograph back into the flow of daily life. As close as possible to the act of looking, or breathing. I searched for the "alikeness of feelings", to quote photographer Anders Petersen (7). A time of "continuity" between life and photography. A continuity that I have often tried to tell, for instance in this text about a book by another photographer, Richard Dumas: "Us in the elsewhere, that's still our life that goes on, but elsewhere – that's still us, in the daily life of the Other. For the worse (our certitudes about the elsewhere, without escape) or the better (our dissolution in the elsewhere, in a light and temporary way)" (8). The result of this approach is my latest Nepali series, Explanation, Peace, Oblivion (9).
I have thus never stopped searching. Always in Nepal. Because this is the place on Earth where the balance between order and disorder seems to me the most intelligible and the most bearable. This is where photography became both my language and my connexion to the world, as well as a tool to understand what I see. This is where I want to be. Because each time I come back, I simply slip into a world where I already exist, soothed by the shadow of its chaos. A world at once different and intimate, in which I feel recognised.
Genesis of the work
The present project focuses on Qatar, or more precisely, on a specific link between Nepal and Qatar. I would like to expound hereafter why it is so, and where it comes from.
Doha airport
In the 1990s and early 2000s, Dhaka, Delhi or even Moscow were common stopovers for flights en route to Kathmandu. But by the years 2005-2010, with the rise in power of Qatar Airways and, at least in a first stage, the attractiveness of their rates, transiting via Doha had become unavoidable for a frequent European visitor to Nepal.
At Doha International airport I couldn't but notice that many employees were Nepalis. I never properly met any of them at the time because I was in transit, but I could tell it by their body language, by their name on their badge, or by a simple "namaste" that would trigger a smile in their face. When they were working in areas such as the security check, being in charge of easing the flow of passengers through the portals, any further interaction was impossible. But on occasions, I could speak with some of them whom I happened to come across in other areas of the airport, like the restrooms. This is where one man one day told me that his monthly salary as a toilet cleaner amounted to 125 $. As far as I can remember this was in 2005, and this might have been the first time that I became aware of the fact that in that particular country, Qatar, an abnormal situation existed for a substantial group of people, the Nepali migrants there.
First attempt
I started to gather information about the subject. It became clear that what I was witnessing at the airport was only the visible part of a larger movement. I wanted to know more. In May 2006, I applied for the "F Grant for the Concerned Photographer", a contest organised by Fabrica, Benetton's communication research centre (10). "Concerned" was not an empty word for me. I found a trace of my project description in my archive, entitled "Nepalese diaspora in the Gulf", which reads: "In 1994, there were 400 Nepalis in Qatar. They are now more than 150,000, 85% of them being manual labourers or housemaids, underpaid by Qatari employers, and exploited by Nepali manpower agents and recruiters. I want to understand why they go, how they survive, how they don't (many die of the heat, of work accidents, or simply of despair), and to what extent this exodus resembles a huge human beings market."
I was not chosen as the recipient of the grant, obviously because my project lacked preparation. So I did not do it. I did not go to the Gulf before long, for as it happens for an emerging photographer, grants are more often than not the only option for that kind of long-term project to be carried on.
Acceleration of History and photojournalism
From 2006 onwards, the situation in Nepal evolved quickly. It is the moment when, as I evoked, I considered myself as a photojournalist. I shall not retrace the contemporary history of the country. Yet let me recall some important events that, as a photographer, I felt it was my job to narrate. A job I did the best I could.
The May 2006 "Jana Andolan" (11) saw hundreds of thousands of Nepalis take to the streets, among whom nineteen were killed by the security forces. This movement prompted the end of the civil war, soon followed by the King's renunciation to his privileges and by the fall of monarchy. I could not afford to be there during the people's movement. (I should have taken it as an early sign that I was not seeing my photography practice through the right focal). Nevertheless, I was able to come back to Nepal a bit later. I interviewed and photographed forty of the demonstrators who had risked their life during the Jana Andolan.
This was a period of hope for the country, but also of great fragility. In the aftermath of the war Nepal was still one of the ten poorest countries in the World. A situation of severe malnutrition, if not of famine, was prevailing in the remote districts of Mugu and Humla. In July 2006 I documented this issue on behalf of the INGO Action Contre la Faim (ACF). In 2008, I covered the election of the Constituent Assembly and the birth of the Republic, and took a series of portraits of women voters. In 2009 I went to Rolpa to meet former Maoist combatants who had returned in their villages, were the social fabric had been destroyed by the war…
Yet "the best I could" was not always good enough for the work to be shown at home. But it was useful on the field. My pictures of the malnourished villagers in Mugu and Humla were published in the Nepali Times (12). I was later informed that the local teams of ACF were using copies of the newspaper at Maoist check-posts to explain their action to the rebels, in order to ensure their access to remote populations. This made me feel more useful than if Paris-Match had issued the story.
Everyday Epiphanies
But this sort of satisfaction was too rare. For that reason, added to the quest for poetry that I have detailed above, in the years that followed I engaged intensively in my Everyday Epiphanies series. I travelled throughout the country without any documentary nor journalistic purpose. And at the same moment I started teaching photography workshop for young Nepali photographers in Kathmandu, under the banner of photo.cricle (13), a burgeoning organisation of photo-enthusiasts based in Lalitpur, that has now become the major actor for photography in Nepal. My regular workshop with them is entitled "Photographing the everyday". This engagement, and the relation with the young participants, profoundly renewed my perspective about what it means to be in Nepal and what it means to photograph the Other and the elsewhere.
I must also say that, from reading the newspapers and talking to people in that period (but this is more a personal memory than a firm assertion), I retain the sense that the country as a whole was more focused on the peace process and on the drafting of the young republic's constitution than on the exodus of Nepal's workforce.
So even if the situation of the Nepali migrant workers in the Gulf was weighing on my mind, obviously I did not turn it into a photographic subject. If I explained in details how my relationship to Nepal and to photography evolved during these years, it is not as a pretence for not having gone to Qatar, but as a possible way to understand why I eventually would. It was just a matter of time – probably the time required to understand that human beings in general, and Nepali migrants in particular, deserve better than being turned into some photographer's subject.
The World Cup
After 2010 I read more articles about migrations in the local newspapers. And even if I had not read the press, the overwhelming proportion of Nepali nationals boarding the outbound planes from Kathmandu to Doha was undoubtedly a sign that this exodus had become, or was soon to become, a major national concern.
An increased light was shed on the particular case of the Nepali workers in Qatar on 25 September 2013, when an in-depth enquiry about their living conditions in that country was released by Pete Pattisson in The Guardian (14). But if Pattisson justly condemns the abuses perpetrated on that population by their employers in the emirate, for readers keen at simplifying the complexity of the reality, it was easy to skip half of the truth, and to surmise thereof that the issue only emerged at the end of 2010 when Qatar was attributed the organisation of the football World Cup 2022, and was limited to that sole country. A deduction that the French press did not fail to do. Indeed, an unsigned article, based on Pattison's, was published in Le Monde the next day (15), that was classified in the "sports" section of the French evening newspaper. A choice that felt to me either a gross journalistic mistake, or a very cynical position. Three weeks later, this correlation was again put forward in Le Monde by Benjamin Barthe in a piece entitled: "Mondial 2022, les damnés de Doha" (16).
Second attempt
I somehow received these articles as a betrayal. It is not that they were lacking empathy or denying facts. It is just that the insistence of their authors on linking the sufferings of the Nepali workers in Qatar to the World Cup 2022 seemed to me an evidence that, once the World Cup would be over, there would be no more articles at all, and that the Nepalis could keep working, suffering and dying abroad in silence again (for given the situation of the country, I assume that the economic migrations of Nepalis are very unlikely to stop in 2023).
On the other hand, if Pattisson's work (and its interpretations) drew the attention of western audience on only the half of the story, at least was this attention drawn on that much, which for me was better than nothing. I saw this as an opportunity to raise awareness about the different aspects of these migrations among a larger audience. I was obviously not the only one to think so. In March 2014, Le Monde published an article by Florence Beaugé (17), in which she recalled that Nepali nationals did not wait for the prospect of Qatar hosting an international football event to leave their country, and to sacrifice their physical and moral health abroad in order to feed their families.
Also by that time, the migrations issue had been widely researched by human geography and social sciences. Tristan Bruslé's piece entitled "What kind of place is this" (18), that deals with the daily life of Nepalis in Qatar's labour camps, was of a great influence on my project. Burslé's photographs and short films, that punctuate his article, are particularly inspiring, in the sense that they precisely address the question of banality that I was interested in, without any intention of taking "good" pictures, nor any obedience to the photojournalistic codes.
This encouraged me to try again to gather financial support to go to the Gulf and tell my vision of that story. In June 2015, with the help of Agence VU', the photographers' agency of which I am a distributed member, I sent my application to the "documentary photography grant" of the Centre National des Arts Plastiques (CNAP) in Paris (19). I was chosen as one of the recipients of an 8,000 € grant, which, with other supports, allowed me to work.
The project
Initial description
The preliminary argument of my project, as sent to the CNAP in June 2015, was the following:
"Nepal is being emptied. Before the earthquakes of 25 April and 12 May 2015, each day 1,500 Nepalis (20) were leaving the country to go and work abroad, mainly to Malaysia (41%), Qatar (20%) and Saudi Arabia (23%) (21) (22), driven by the lack of job opportunities at home.
Despite degrading life and work conditions, despite violence, heat, suicides, accidents, "heart attacks", abuses, solitude, despite the lack of cares and security, the cost of the voyage, the daily life in the labour camps, despite the distance from the beloved ones, the feeling of boredom and the exclusion of the public space in which they are kept in exile, Nepalis leave, leave again, and make their fellow countrymen want to leave.
This more or less voluntary siphoning off of the labour forces of Nepal, and the reverse cash flow amounting to 25% of the country's GDP, have huge implications on the social fabric. Women are left alone to take care of the household. Matrimonial ties loosen up. The elders, who were traditionally taken in charge by the younger generations, are also left alone. Agriculture recedes by lack of farmers. Villages become impoverished.
Hence this question: this additional income for which the migrants agree to go "to jail for two years" (23) and these statutory benefits for which the families accept the absence of their sons and husbands, at what cost is it generated? What human, social and societal cost? What cost for the men who migrated? For the families who stayed? For the villages? For the social fabric? For the nation?"
Anticipated process
Here is how I proposed to proceed to explore these questions:
"The first part of the project will take place in Nepal. I will choose a limited number of villages that are characteristic of the difficulties that I have shown, in the hills and the Tarai plain. I will share the daily life of women and elderly people and will document the positive and negative consequences of the absence of men. If possible, I will stay in at least one family of someone who already left several times. I will try to know if the touristic zones are as much affected by the exodus than the rest of the country. I will examine if the situation has somehow or other been modified by the earthquakes, and if the return movement that has been observed (24) since then continues.
The second step, with the authorisations of the families, will consist in acting as a messenger between their separated members. I will go to Qatar and will visit their relatives in their labour camps. I will share their daily life, as described by geographer Tristan Bruslé (25), from their return from the building site at 5 PM until lights out around 10 PM. Five hours of social life during which they weave links, inhabit the space and arrange it in order to recreate a bit of privacy and a bit of Nepal in Qatar. I will observe boredom as well as joys and leisure time, and see how they get used to the long Fridays off, to the absence of the beloved ones and to isolation… My interviews will concern their motivations, their disappointments, the source of their courage…
The photographic body of work that will result from this enquiry will hopefully provide the viewer with a tool for understanding what is at stake, not only for Nepal but also in the perspective of a global model of wealth generation. Indeed, the questions raised by a situation where the workforce of a poor country is diverted to produce at low cost the opulence of an already rich country are emblematic of the current mutations of the World. The first of these questions being: this absence, these sufferings… all that for a handful of hotels, nine stadiums and an airport in the desert – whether you consider it from the side of the fullness or from each side of the void, is it really worth it?"
Methodology I: Nepal
To take full measure of the complexity of these questions, as well as to find contacts on the field, I first met several actors in Kathmandu, who were working with, or about, migrants and families of migrants. We had captivating conversations with Bandita Sijapati from Ceslam (Centre for the Study of Labour and Mobility). Also, thanks to Prathama Raghavan and Christian Wolff, respectively from the local branches of INGOs ACF and DanChurchAid in Nepal, I made a decisive encounter in the person of Ashmita Sapkota, who was then a Program Coordinator at Worec (Women Rehabilitation Centre (26)), a Nepali organisation founded by Dr Renu Rajbhandari, that works to prevent violence against women, and provides help to the wives and families of migrant workers. Ashmita Sapkota is now a Campaign Officer for Amnesty International Nepal.
Thanks to Ashmita Sapkota's help and insight, in February and July 2016 I visited three among the most migrations-affected districts of the country: Sunsari and Morang in the eastern part of the Tarai plain, and Udayapur, that straddles the plain and the hills.
It was time to test if my proposed work process was feasible, and if I would actually be able to "share the daily life of women and elderly people" in villages where the issues raised by the absence of men are so conspicuous. It had of course come to my mind that this ambition of "sharing the daily life" of villagers could eventually turn out to be wishful thinking. I had just not imagined to what extent it would be so.
In Morang and Sunsari I worked with Sweechya Lakoul from the Biratnagar office of Worec, and in Udayapur with Harisharan Dhital from the organisation's headquarters in Triyuga, sometimes accompanied by a native of the village, who was working as a resource person for them.
Even though my intentions were empathetic, even though I was carrying out my interviews in Nepali, and even though I was accompanied by members of Worec, an organisation that is well-reputed and well-respected even in the remotest villages, I couldn't but acknowledge that, in fact, I was not going to spend days with each of these families, neither was I going to immerse in their daily life in order to document it. This was simply not acceptable on a social level. In these extremely conservative areas, a woman shall not let a foreigner stay for days in her home when her husband is away. A short interview of half an hour was sometimes enough to attract a dozen curious villagers to the house I was visiting, which made the little confidence, the little freedom of expression that the person had indulged in, instantaneously fade away. Curiosity was not the only motive of the villagers' indiscretion: their main goal was to make sure that what was happening, i.e. a foreigner visiting a neighbour, was in fact not harming nor disrupting the social order of the municipality.
So I soon had to confront the reality and to reappraise my modus operandi. Which I did in a simple way: I accepted the situation as it was. I respected the villagers' position and happily shared whatever they were willing to share.
We visited two or three families each day, always following the same protocol. It was not difficult to choose. Each household is concerned. The only constraint that I imposed was that the man be in Qatar. Once the principle of a discussion was agreed with the mother or the wife of the migrant worker, I placed my sound recorder between us and launched the recording. I presented myself and explained the goal of my research in Nepali. I insisted on the fact that I would soon visit her relative in Qatar.
Then I started the interview, according to a fixed set of questions that goes as follows: full name, full address, full husband's/son's name, number of family members, age of the migrant worker, level of schooling of the migrant worker, country of migration, city of residence, previous employments abroad if any, duration of the current stay aboard, characteristics of the job, basic salary plus overtime, utilisation of the remittances, cost of the travel, did the family take out a loan to pay for the trip, at what interest rate, has it been cleared. Then comes a few more questions about their personal feelings, the difficulties or not to deal with the household tasks on their own, their perception of the improvements brought to their lives by the remittances, etc.
I listened to the women, let them speak about their life, about what they know of their husband's or son's life abroad, about their hopes and sorrows… When a woman would not dare to speak in the presence of a foreigner, or of their in-laws who would nearly systematically attend the interview, Swechhya Lakoul would take her apart and invite her to speak more freely, under the seal of secrecy. Swechhya also helped me with some translations. I did not omit to collect the migrant's Qatari phone number before leaving. And I always took the necessary time to let the woman feel comfortable for a portrait to be taken.
In my two visits, I was able to meet about thirty families whose male members were or still are in Qatar.
Methodology II: Qatar
I went to Qatar twice, in April and October 2016, subsequent to each of my stays in Nepal. I endeavoured to search for the husbands and sons of the women that I had met at home.
I had never gone to Qatar before. The first time, I did not have the slightest idea of even how to be there. How to start working. How I was supposed to behave. How to remain as discreet as possible, and in the meantime to do what I had committed to do. I did not even know where to stay.
Finally I simply booked a plane ticket to Doha, and booked a shared room in town on the Internet. I bought a smartphone. I deleted all personal data from my computer and cameras' memory cards just in case, and I flew. At the airport I was given a tourist visa. I bought a Qatari SIM card. And I took a taxi to my room.
In a phone conversation dating back to June 2015, Tristan Bruslé had been kind enough to share his own experience in Qatar with me. During his field researches between 2006 and 2011, he had managed to stay for days, if not for weeks, in the labour camps. I hoped that I would be able to do the same. But in 2015-2016 the situation seemed to be quite different. From various sides I was receiving information that attempting to enter a labour camp was extremely risky. Not to speak about staying there overnight. Because following the release of Pete Pattison's article that I mentioned above (27), the living conditions of the migrant workers in the camps had become a sensitive issue. The Qatari government was now rather nervous and suspicious about visitors possibly informed by intentions that could in a way or another be linked to journalism. Mar Lobel, a BBC reporter, had even been detained for some days in Qatar (28). I am not a journalist. But if my bag had been searched by Qatari authorities, what they would have found was two cameras, a professional sound recorder, a laptop computer, a notebook, etc. So from their point of view, well might I have protested that I was only a family friend of some Nepali worker, I doubt that I would have been very convincing.
I'm also not a conflict photographer. I don't know how to deal with security issues. Bit I had no choice. My main concern was the security of the persons that I wanted to meet. My second was the security of my pictures. As for my own security, I assumed that it would have been wise not to place myself in an illegal position, but that was a vain wish, since I wanted to go to the labour camps, which was prohibited. So I was de facto taking risks.
I had one contact. I called that person one day. He introduced me to a friend of his, who happened to have a car. I showed them the list of the names and phone numbers of the workers. They gave some calls. On that very evening, after having gone round and round for a while in Doha, we finally met one of them, Akshaya, the son of Sunita and Mahabir, somewhere on the side of a roundabout in the Industrial Area, literally in the middle of the desert. He stepped in the car. I showed him the pictures of his parents. We went to his camp together. We didn't ask any permission from no one. We just entered the camp. And so I did my first interview and portrait. That is how it started. I could have never achieved this alone. Every evening from then on, I uploaded all the pictures and sounds of the day on a secured server, from which another backup was made by my agency. I worked that way during a week. One day a watchman saw me entering a camp. He was not happy. I fled and cloistered myself in my room for three days, then I flew home.
I went back to Qatar in October. I stayed in the same shared apartment. It felt comfortable to find the same bearings again. My contacts had left, though. But I was now confident enough to carry out the research and call the workers by myself. Indicating or understanding a meeting point was the main obstacle, because Nepalis find it difficult to spell arabic names in latin alphabet, since theirs is devanagari. But that aside, the response was good.
In my two stays, out of the around thirty families that I had visited in Nepal, I managed to contact with eleven men in Qatar, with whom I recorded interviews and of whom I at least took a portrait. For the others, either they were not picking up the phone, or their number was deactivated, which could mean that that they had already left Qatar when I arrived or simply that they had changed number.
Most of the workers had been informed by their family of my visit in their village, so that my phone call was expected and I was greeted with emotion.
For all but one, the interview and the portrait were taken in their room, inside the labour camp. The exception concerns the camp of an Egyptian company, the watchman of which, although he too was Nepali, refused to bear the responsibility of letting the worker go in with a foreigner.
I visited various types of camps. From a large and clean room housing two persons, in a small town close to Doha, on the first floor of a car showroom in which they work as security guards, to camps made out of prefabricated units serving as dormitories, each housing from eight people in a sixteen square meters room to twenty people in fifty square meters according to the places. Some camps were set in town, with shops and restaurants around, some in the middle of the desert. The workers had the freedom to go out but they don't, because in the first case they don't have the money to go to the restaurant and in the second, there is nowhere to go beyond the camp. A common feature is that the workers are often displaced from one camp to another without much prior notice.
I spent as much time as possible with the workers. As it had happened in Nepal, here too I had to adjust my initial ambition to reality. I mentioned that staying overnight in a camp is not allowed. I could have decided to infringe the rule, but it would have meant exposing the workers to a considerable risk. So I didn't.
Some workers had just the time to spend a couple of hours with me between the end of their duty and the night, because they have many things to do during these few hours: washing, cooking, eating, forgetting the work site… I paid attention not to be a burden, and by my presence not to curtail the few time of freedom they have.
One was working on night shift, and was happy to stay a whole day with me. On Fridays, which are days off in muslim countries, I could stay longer in the camps. This was the occasion to take different types of pictures than the usual portraits, and to search for traces of Nepal, which were surprisingly scarce. I shared the long and boring hours that begin once the routine tasks are completed. Time passed at listening to their stories, at sharing meals and silences, witnessing the moments of social networking and the endless attempts to call home… A worker's phone is often his only entertainment, and his only link with the outside world. The usual conversations with the family, always subjected to the quality of the communication network in Nepal, were a bit different when I was there, for they could tell them the news that an expected visitor had arrived. When I could see or speak to their wife or children on the phone, and thereby show them that I had kept the promise I had made them some months earlier, it was always a moving and rewarding moment.
But besides these glimmers of home, what prevailed was the slow surrender of migrants to ennui and, for a some of them, to alcohol. A bottle of poor quality Indian whisky costs 25 € on the black market. For some workers, it only lasts for a day. Some of them drink one bottle on Thursdays evening, and one on Fridays. In their case, not much of their salary reaches home.
Finally, something they all said in the interviews struck me. The grounds that they invoke for trying to earn abroad the means of subsistence of their family are always the same: "we have no choice". An absence of choice that I questioned extensively in a rather personal piece entitled "Le Vide et le vide" (29) ("The Void and the void"), written upon my return from my first stay in Qatar. The subjective and critical approach of my own research that I take in this article certainly falls outside the scope of the present paper. Nevertheless I would like to mention just one conclusion that I drew from my reflections, which is that this "lack of choice" they assert as being their fate shows that Nepalis are not only victims of the work conditions in Qatar, but above all of the absence of state in Nepal.
Commented projection
Each particular case, including the obstacles encountered, as well as two specific cases of families of whom I only met the people in Nepal, was commented and detailed during the projection.
Women migrants
I would like to briefly mention the case of women migrants (30), who represent a small percentage of the total migrations (1,5% in 2011 (31), probably more today) and are mainly employed as housemaids. The corollary of that being that they are mostly living in the house of their employers, where they are thus less visible and more vulnerable to abuses, and are in fact sometimes locked away.
If for a start I focused on the migrations of the male population, it is not by a sexist stance, of course. It is because the male migrations are majority, so are the women who are left alone in the villages in Nepal, which makes this double situation more easily observable. Furthermore, in 23 years of regular stays in Nepal, and during this project again when I interviewed Nepali women in the villages, I have had the opportunity to measured how gender discrimination makes it a challenge for them to speak out, especially in rural areas. So it is even more difficult for them to speak with a foreign man.
I therefore believe that a similar photographic research should indeed be undertaken among women migrant in the Gulf, but that it would have a better chance of success if it was lead by a Nepali woman photographer. Bringing the idea on the table with the ones I can think of is part of my projects.
Conclusion
The photographs
So now the pictures exist. Or at least pictures exist, although they might not be the photographs that I had imagined. Admittedly, they are not nothing. But what are they exactly? Do they tell anything else than the emotion of a human being for these divided lives? Are they more than a somewhat insignificant attempt, at the same time shallow and empathetic, to reconnect these people who were separated by the necessity of subsistence, even though this reconnection happens for too short a time and is only a fiction? I have no idea.
I don't know what they are, but I know what I hope they do, and first of all that they offer a relevant perspective on this issue. I also hope that watching the portraits of the woman in Nepal and of her relative in Qatar side by side give rise to some feeling. And as I stated in the abstract, I hope that this body of work, rather than providing the viewer with ready-to-believe answers to the question it raises, opens a space of freedom in which the viewer be able to build up his/her own idea of the situation.
Perspective
So, what will I do with them, now that these photographs exist? I am much concerned with the security of the persons represented in the pictures. This is the reason why these photographs have not been shown online. They have only been screened on the occasion of small-scale private or public projections, and always in my presence. No names have been disclosed. I don't intend to publish them in a printed form before I am sure that all the people who agreed to answer to my questions will be safe if I do so.
I don't know if this work has or will ever have any utility, but I know what the worse would be : that any of these families would be in trouble because of me – that, for the sake of my project, for the sake of me getting a photography grant and wanting to use it to photograph them, they would be exposed to illegality, would loose their job, would be sent back to Nepal without any compensation, would then be unable to refund the loan that they have taken to pay for the voyage, and finally loose the land that they gave as a guarantee for this loan. This would be absurd and unjustifiable, even for the best picture of the world.
An ongoing work
What I certainly know however is that this work is not finished. A story has begun with these families. With some of them we speak to each other frequently. One day they will come back to Nepal, be it for a short leave or definitely. If I was not able to stay in the families when I first visited them because they did not know me, now it is different. I met their relatives in Qatar. They invited me home. I want to honour that invitation and follow these eleven families, or at least some of them, to add a long-term human dimension to the first part of this work.
Then new questions will probably arise: what will happen when they return home after years of loneliness, having only been with other men who suffered like them? How are the family links going to be reenacted? How ha their absence affected the social fabric, and how will they be able to mend it once they will be again part of it? How will they earn their life at home again? Will they have to leave anew? All these question, are, I believe, part of the initial one: at what human cost are the financial benefits of the migrations generated?
Appendix
About the online portfolio of the series
fredericlecloux.com/migrations.
The series is still protected by a password for the moment. If you have it, note that the captions of the images often mention the salary of the Nepali migrant abroad. The reader who wishes to have an idea of the additional income that it represents might be interested to know that the minimum wage of a worker in Nepal has been raised in March 2016 up to 9,800 rupees (83 € as per October 2016 rate) (32). Various quotes about the minimum salary according to the field of employment and about the cost of life are available online, for instance on The Longest way home blog (33).
Yet these amounts remain theoretical, since the payment of a salary is conditioned to the availability of work, which is often not the case every day.
Acknowledgment
The realisation of this work is made possible thanks to the help of the documentary photography grant of the Centre National des Arts Plastiques in Paris.
---
(1) Jagannath Adhikari, Mary Hobley, Everyone is leaving – who will sow our fields? The Effects of Migration from Khotang District to the Gulf and Malaysia (Kathmandu: Swiss Agency for Development and Cooperation, 2011), https://doc.rero.ch/record/30498/files/05-Everyone_ist_leaving_Nepal_2011.pdf [Accessed: 9 March 2017].
(2) Tristan Bruslé, "Représentations d'un groupe national et insertion sur le marché du travail : le cas des Népalais au Qatar", Espace, populations, sociétés, no 2 (2012): 47, http://www.academia.edu/3101102/Repr%C3%A9sentations_dun_groupe_national_et_insertion_sur_le_march%C3%A9_du_travail_le_cas_des_N%C3%A9palais_au_Qatar [Accessed: 9 February 2017].
(3) See for instance:
Jonas Bendiksen, Far from home – Guest workers of the gulf, Magnum Photos, 2013, https://pro.magnumphotos.com/C.aspx?VP3=CMS3&VF=MAGO31_4&VBID=2K1HZOQ8FP3TIR&IID=2K1HRG5YUV5F&PN=1 [Accessed 8 February 2017].
Florian Büttner, Modern Slaves of Dubai, Florian Büttner Photography, 2009, http://www.florianbuettner.com/modern-slaves-of-dubai [Accessed 8 February 2017].
(4) See for instance: Anna Tervahartiala. The final call, Anna Tervahartiala Photography & Journalism, 2016, https://annatervahartiala.wordpress.com/2016/03/01/the-final-call/ [Accessed 8 February 2017].
(5) Henri Michaux. Tent Post, trans. Lynn Hoggard (Los Angeles: The Green Integer, 1997).
Original text: "Non, non, pas acquérir, Voyager pour t'appauvrir, Voilà ce dont tu as besoin", in:
Henri Michaux, Poteaux d'angle (Paris: Fata Morgana, 1978).
(6) Frédéric Lecloux, Everyday Epiphanies, Frédéric Lecloux Photographer, 1996-2013, [Accessed 8 February 2017].
(7) Translation is mine. Original text: "une proximité dans le sentiment", in: Christian Caujolle, Anders Petersen (par) Christian Caujolle (Marseille: André Frère, 2013).
(8) Frédéric Lecloux, "Pas une histoire sur le dos", Aux bords du cadre (blog), 20 October 2014, www.fredericlecloux.com/pas-une-histoire-sur-le-dos/ [Accessed 8 February 2017].
(9) Frédéric Lecloux, Explanation, Peace, Oblivion, Frédéric Lecloux Photographer, 2013-2015, www.fredericlecloux.com/en/portfolio/explanation-peace-oblivion/ [Accessed 8 February 2017].
(10) This contest is not organised any more by Fabrica, but the call for applications is still available online from: http://2009to2012.fabrica.it/fff/pdf/en_bando_back.pdf [Accessed: 9 February 2017].
(11"2006 democracy movement in Nepal", Wikipedia, https://en.wikipedia.org/wiki/2006_democracy_movement_in_Nepal [Accessed: 8 February 2017].
(12) Marty Logan, Frédéric Lecloux, "The Karnali's Children", Nepali Times # 319, 20-26 October 2006, http://nepalitimes.com/~nepalitimes/news.php?id=12644#.WJyxmRCXneQ [Accessed: 9 February 2017].
(13) See the organisation's website at http://www.photocircle.com.np/about/ [Accessed: 10 February 2017].
(14) Pete Pattisson, "Revealed: Qatar's World Cup 'slaves'", The Guardian, 25 September 2013, http://www.theguardian.com/world/2013/sep/25/revealed-qatars-world-cup-slaves [Accessed: 9 February 2017].
(15) [Unsigned], "Coupe du monde 2022 : des "esclaves" népalais morts au Qatar sur les chantiers", Le Monde, 26 September 2013, http://www.lemonde.fr/sport/article/2013/09/26/des-esclaves-nepalais-morts-au-qatar-sur-les-chantiers-de-la-coupe-du-monde_3484869_3242.html [Accessed: 9 February 2017].
(16) Benjamin Barthe, "Mondial 2022, les damnés de Doha", Le Monde , 18 October 2013, http://www.lemonde.fr/sport/article/2013/10/18/les-damnes-de-doha_3497864_3242.html [Accessed: 9 February 2017].
(17) Florence Beaugé, "L'exode intarissable des jeunes Népalais". Le Monde, 19 mars 2014, http://www.lemonde.fr/asie-pacifique/article/2014/03/19/l-exode-intarissable-des-jeunes-nepalais_4385432_3216.html [Accessed: 9 February 2017].
(18) Tristan Bruslé, "What Kind of Place is this?" South Asia Multidisciplinary Academic Journal, 6/2012, http://samaj.revues.org/3446 [Accessed: 9 February 2017].
(19) Information about that grant are available from the website of the Centre National des Arts Plastiques at: http://www.cnap.fr/navigation/soutien-anbsplanbspcreation/photographes-documentaires/soutien-la-photographie-documentai.
(20) Florence Beaugé, "L'exode intarissable des jeunes Népalais".
(21) Elisa Bellanger, Eric Béziat, Eugénie Dumas, et al., "Le Népal : un pays qui amorçait son développement avant le séisme" Le Monde, Les Décodeurs, 8 mai 2015, p.7, http://www.lemonde.fr/les-decodeurs/visuel/2015/05/08/le-nepal-un-pays-qui-amorcait-son-developpement-avant-le-seisme_4629784_4355770.html [Accessed: 11 February 2017].
(22) Migrations to Malaysia dropped in 2015-2016. This is partly "due to the announcement made by the Malaysian government to halt recruitment of all foreign workers" in March 2016 (cf. Subodh Dahal, "Number of Nepali foreign job-seekers on the decline", The Himalayan Times, 7 May 2016, https://thehimalayantimes.com/business/number-nepali-migrants-foreign-job-seekers-decline/ [Accessed: 10 February 2017]), but also to the "widespread harassment and robberies by locals" that Nepalis have to suffer there (cf. Om Ashta Rai, "Hounded out of Malaysia", Nepali Times, # 808, 13-16 May 2016, http://nepalitimes.com/article/nation/Nepali-migrants-hounded-out-Malaysia-,3036 [Accessed: 11 February 2017]). As for the departures to Saudi Arabia and to Qatar, they show no sign of decrease.
(23) Tristan Bruslé, "What Kind of Place is this?", §55.
(24) Om Ashta Rai, "Migrants inbound", Nepali Times, #758, 15-21 May 2015, http://nepalitimes.com/article/nation/migrants-return-home-after-earthquake,2241 [Accessed: 11 February 2017].
(25) Tristan Bruslé, "What Kind of Place is this?".
(26) See the organisation's website at http://www.worecnepal.org/pages/about-us [Accessed: 11 February 2017].
(27) Pete Pattisson, "Revealed: Qatar's World Cup 'slaves'".
(28) Mark Lobel, "Arrested for reporting on Qatar's World Cup labourers", BBC News, 18 May 2015, http://www.bbc.co.uk/news/world-middle-east-32775563 [Accessed: 11 February 2017].
(29) Frédéric Lecloux, "Le Vide et le vide", Aux Bords du cadre (blog), 8 May 2016, www.fredericlecloux.com/le-vide-et-le-vide/.
(30) Françoise Beaugé, "L'émigration des femmes, un drame pour le Népal", Le Monde, 19 mars 2014, http://www.lemonde.fr/asie-pacifique/article/2014/03/19/l-emigration-des-femmes-un-drame-pour-le-nepal_4385792_3216.html [Accessed: 12 February 2017].
(31) Tristan Bruslé, "Représentations d'un groupe national…", p. 54.
(32) Bruno Deceukelier, "Nepal fixes new minimum wages", Right to social protection in Asia (blog), 1 March 2016, http://rightspasia.blogspot.fr/2016/03/nepal-fixes-new-minimum-wages.html [Accessed 12 February 2017].
(33) Dave, "How much money does a person from Nepal earn or make a day?", The longest way home (blog), 12 November 2012, updated 30 January 2017, http://www.thelongestwayhome.com/blog/nepal/how-much-money-does-a-person-from-nepal-earn/ [Accessed 12 February 2017]
---
Participants and discussants to the workshop were: Krishna Adhikari, Attiya Ahmad, Susanne Åsman, Marcus Banks, Tristan Bruslé, Ben Campbell, Noah Coburn, David Gellner, Sondra Hausner, Michael Hutt, David Kendall, Andrew Nelson, Marina Korzenevica, George Kunnath, Uma Pradhan, Jacob Rinck, Indrajit Roy, Bandita Sijapati, Sarah Speck, Brigitte Steinmann, Krishna Upadhyaya, Hannah Uprety, Nick van Hear, Ina Zharkevich.
---
Photograph: Doha, Qatar, April 2016.
Series
Nepal-Qatar: the Void and the Fullness
.
---