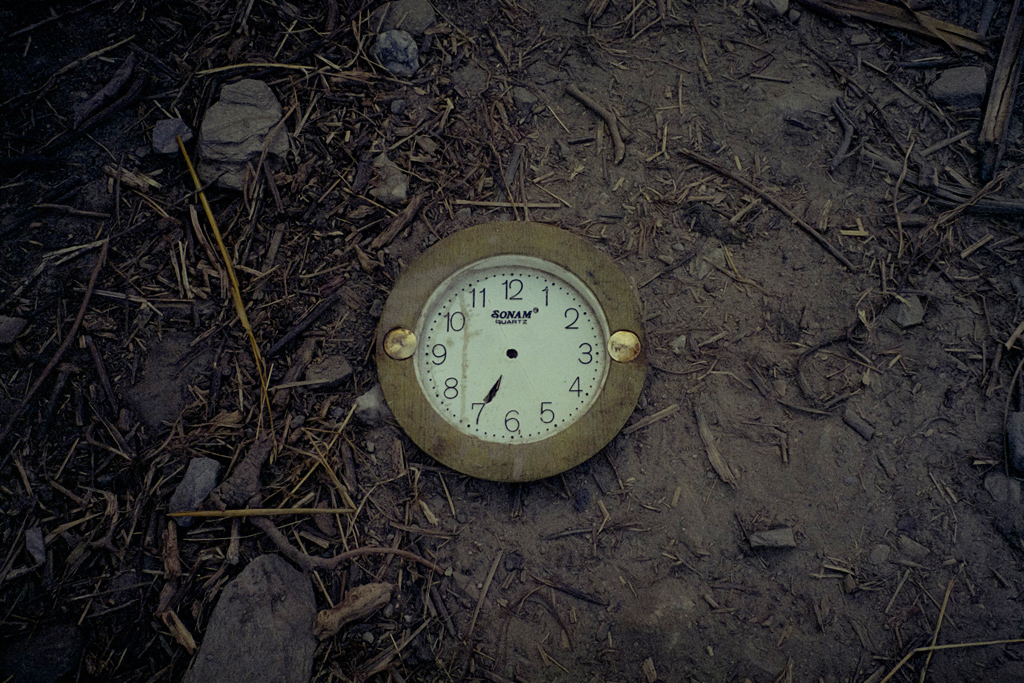 Photography, a pretext to address and dream the road
---
A lecture given on the occasion of the workshop "Re-enacting the silk road, part III – Silk Road Representations: Travels, Texts & Images", University of Nottingham, Sept. 19-20, 2013
Ladies and gentlemen, dear audience,
First of all, please be aware that I am not used to writing about my work in English. I did my best to formulate my ideas as accurately as possible. Yet I would like to ask you to be indulgent with me should any ambiguity arise, the details of which we can of course discuss later on.
Let me please introduce myself. My name is Frederic Lecloux. I am a Belgian-French photographer. I was born in Brussels in 1972 and I live in the countryside in the South of France. My work has been distributed by Paris based Vu' Agency since 2003.
The beginning
Although I've taken pictures as far back as I can remember, I started to do it with some sort of visual intention only in 1994 during my first travel in Asia. It was a ten months long trip around the Himalayas from Kathmandu to Kathmandu via Northern India, Northern Pakistan, the Khunjerab Pass, Chinese Turkestan and Tibet. Why did I go there, and why with a camera? Let me provide you with an chronology.
A longing for the Himalayas
With the benefit of hindsight, I assume that my longing for the Himalayas and the roads leading to this part of the globe takes root in the regular reading, around the age of 15, of Rheinold Messner's All Fourteen 8,000ers. The title tells it: Messner is the first summiteer of the fourteen 8,000 meters peaks of the World. All are in the Himalayas. Eight are in Nepal. Although I have never seriously considered becoming a mountaineer, this is the very first book that gave me the taste of the great outdoors. Not a precise taste however: rather a foretaste.
After secondary school I studied translation for a while. But the prospect of spending four more years in a classroom was too predictable a nightmare for me. I quit. I got a job in a bookstore. Among the thousands of books available, I focused on the classical Himalayan travel literature: Ella Maillart, Heinrich Harrer, Alexandra David-Neel… Nothing modern indeed. But at their contact, the foretaste changed into a dream. Music did the rest. We were in 1990. I was 17. My friends were listening to Nirvana. I wasn't interested in the hits of my time (and I still am not) thus not in Nirvana (but now I am). My closest colleague at the store, who also was 17 one day, but in 1972, introduced to me bands like Crosby, Stills, Nash & Young, Ten Years After, Jethro Tull… Their music was arousing strong interest within me for the more recent hippie period, and consequently for the road to Asia. A song like Cat Stevens' Katmandu, for instance, has had a lasting effect on me.
One day at the store, I came across a French edition of Hugh Swift's guidebooks about trekking in the Himalayas. Swift's soft but radical inclination for slowness, his curiosity, his admiration for the local people, his constant incitement of the traveler to choose the long way, to make every possible detour, to be open to all wonders, and his manner of describing every adventure as simply feasible, provided you take the time to pay a fair attention to the other… All that finished to convince me that I should go and see by myself. Say for a year or so.
I have moving memories of evenings spent in my room, playing records on the turntable from the time before I was born, incense spiralling in the air, an atlas in front of me, a pen in the left hand, drawing up lists of possible towns to cross to go overland from Brussels to Kathmandu, shifting every now and then from the maps to Swift's book to familiarise myself with the variety of the cultures I would discover there.
Since I didn't have a driving licence, but well some compassion for my parents, whom I was already worrying enough by my decision to go that far for that long, I postponed the overland option, whether by driving or by the local buses. I worked at the bookstore, sparing every Belgian Franc I could, until I had enough to buy my first plane ticket, plus the equivalent of about 3,000 euros that would last or that would not…
From the books to the field
I took off in March 1994, ready to confront the books with the reality. I was 21. What occurred was a combination of a terrible shock and a tremendous happiness. I landed in Kathmandu, one of the dirtiest and most polluted cities on earth. Mass tourism had shot up. A communist government was elected that year in Nepal, which is not bad in itself, but the non-fulfilment of its political ambitions paved the path to a civil war that killed 15,000 Nepalis between 1996 and 2006. The country was, and still is, one of the poorest in the world in terms of GDP. This is to speak only about Nepal. When I returned back to Kathmandu after nine months of circumambulation around the Himalayas, I had gone through many regions facing their own problems like, to name but a few: Ladakh, a once self-sufficient agricultural society, based on communal and trans-generational help, now importing most of its basic goods from India and struggling to process the waste it generates as well as to maintain social bond; the Chinese province of Xinjiang, home of the Uyghur minority whose relations with the dominant Han ethnic group have always been explosive; and Lhassa, reduced to a museumified centre, surrounded by an ever growing modern Chinese city made of concrete, glass and tiles.
And somehow I was happy. Who wouldn't have been? The world had suddenly become broader. I had never been as alive as I was then. The people were incredibly welcoming. I was staying for days with farmers and families. Everything I knew had become relative and was being balanced by a fascinating variety of new knowledges. The landscapes in front of my eyes were headily beautiful. Every experience was a source of wonderment and excitement… It was "the immediate life" as described by Ella Maillart.
Significantly, I don't have much pictures of the people I lived with. If I did take portraits, it was mostly of unknown persons, and mostly with a telephoto lens. Photography was then not about recording my experience with the other but well, instead, about validating the fantasised vision of this territory that I had shaped by my readings. I was taking pictures of anything that I believed to be relevant to tradition, bearing witness to authenticity or that was on the verge of being erased by modernity, voluntarily ignoring everything else. Visually, I was trying to comply with codes that I had learned from photographers like Olivier Föllmi, Eric Valli or Steve McCurry. A plethora of subjects would meet this propensity for a partial vision of the world: the wise face of an elder furrowed by the severity of the climate, a mountain, a monastery nestled against a hill, a remote house in a magnificent nature, an immense landscape making living beings look minuscule in it, children, a timeless urban scene, religious celebrations, and so on. Whatever the subject was, the non-subject was clearly identified and always the same: the present.
Of course the human and social tragedies hidden behind the visible facts didn't leave me indifferent. They even led me to some activism back home, hence to some familiarity with helplessness. But I rarely happened to use photography as a vehicle for my concern or for my anger. I did it only in Tibet, but without experience, nor enquiry, nor involvement nor any idea of what to do with these images. In short, without a photojournalistic purpose. By way of purpose indeed, it sufficed me to be on the road, meeting the other, searching for the past and doing my best to be as respectful a traveler as possible.
If there is one place where I have been happier than anywhere else, it is the ancient oasis of Kashgar. I fell in love with the city in the books. I had imagined its maze of sand lanes and low houses of straw and mud long before I first saw it in 1994, where I fell in love again. Ella Maillart's Forbidden Journey, Peter Fleming's vision of the latter in News from Tartary, Sven Hedin's accounts of his expeditions into the Taklamakan, Francis Younghusband's Heart of a Continent and above all Peter Hopkirk's Foreign Devils on the Silk Road and The Great Game: all these books nourished my desire for Central Asia. And Kashgar is the epicentre of all of them. Despite the atrophy of Kashgar's old Uyghur centre choked by a huge Chinese city, I managed to live, to feel and to experience everything travelling offers to the senses inside the limits of its walls. I was staying at the Seman hotel, located in the premises of the Soviet consulate from the time of the Great Game. Its main building was a hideous tower. But the old wing still existed. It was a humid derelict house with mould on the walls. The direction was reluctant to accommodate a foreigner in such a wreck, but upon my insistence I was given a room in there. To live in the place I knew from my readings was moving. Retrospectively, I find it weird that I didn't take any picture of this ruin. The historical and imaginary aspects of this room touched me, but obviously not its aesthetic one. It never struck me that I could take a photograph of it, which would reflect my emotion for it. They shut it down a bit later.
Then there was this old tchaikhana at a crossroads in the centre. I was spending my days on its balcony, watching life passing by, writing, drinking tea and yoghurt, eating boiled eggs and freshly baked bread from the clay oven downstairs, feeling one century younger. On sundays I was wandering in the huge weekly market to expose my senses to sounds, smells, colours, impressions, voices and faces from the whole region.
Leaving Kashgar was heartbreaking.
I reached Lhassa via Urumqi, Turpan, Dunhuang, Golmud… With great expectations, that were met only to a small extent. If Turpan retained a bit of the atmosphere that had captivated me in Kashgar, where I just had to withdraw into the old town to be in adequacy with my imagination, elsewhere the dream was gone. I could but sadly renew the disappointing experience of noticing the gap between my literary imaginary world and the real. Especially in Dunhuang where the real was a guided tour of a dozen of caves desperately over-organised by the Chinese tourism department, whereas the literature was Hopkirk's brilliant and exciting narrative of the explorations that happened there a century earlier. I guess I shouldn't have tried sightseeing. I didn't take pictures. I didn't meet much people either. I must admit that my disillusion was partly caused by my ignorance of the language. I have always learned basics of the language of the country in which I travel. I did so with Russian, Farsi, Urdu, Uyghur… This is an essential aspect of the voyage. I even have studied Nepali right until today. But who knows why, I have never learnt more than a couple of Chinese words. This frustrated me. It maintained the people out-of-reach. The other cause is the country itself: the only English speaking Chinese people I met were officials. And as for Uyghurs, the few people who were willing to speak with a foreigner soon abandoned by fear of being suspected of illegal activity.
More travels
Between 1996 and 2000, I did several more trips in Nepal, Russian and Chinese Central Asia as well as in Iran, Pakistan and Tibet. Always with my dear books in mind. Always with a certain idea of what a beautiful picture is. I was in search of a golden age. It is only later, in a postface to one of my books by the founder of Vu' Agency, Christian Caujolle, that I understood that (I quote and translate) "there has never been such thing as a golden age, except for the ones who know how to invent it for themselves day after day". In Samarkand and Khiva I hardly shot anything but tiles and passers-by. In Bukhara I took a picture of the pit jail where the English agents Stoddart and Connolly rotted before they were executed. I saw Kashgar twice again. The second time I no longer was a single traveller… In 1999 the lady who designed my first book had become my wife. Henceforward we travelled together. My comprehension of travelling evolved. I was still disregarding the time I was living in, but to a smaller extent, almost pretending I was doing so… I began to live in the present, and to take regular pictures of the people we were meeting. I rembember Sacha, an engineer met on the Moscow-Amlaty train journey, during which he fed us with prawns and vodka and each night recited us Boulgakov's Master and Marguerite to put us to sleep. The following excerpt (translation by myself) of the narrative of this 1999-2000 trip from Istanbul to Kathmandu, published in France in 2006, illustrates my shifting from the fantasised world to the present: "A journey is only our life that goes on, but elsewhere, yet ours… Our life, just relieved of its comfortable skin. Finally, these days or years on the road are nothing more that a fraction of the time we've been bestowed on this planet, that pertains to the same movement as the time before them and the time after them, and belongs to no one else than us. There is no other self when travelling."
So things were changing. From Kashgar we hitch-hiked on a truck to Mount Kailash and Lhassa. I took plenty of pictures of the Kailash but hardly a dozen of the harassing journey, and none of the truck driver who was staking his license by hazarding the company of foreigners… So things were sure changing, but rather slowly… I was always feeling like passing by, leaving people too early… Far from Henri Michaux's warning (in Tent Posts, 1972): "No, no, not gain. Travel to lose. That's what you need", I was accumulating: pictures, experiences, countries, looking at the world by keeping a "safety distance" between myself and the reality. Staying at the surface. Travelling this way had become discouraging. At the end of the nineties, in fact, I was stuck. Within six or seven years I had gone through so many places where I would have loved to come back and live for a year, or maybe one life or two… I was full of desires. I would have preferred to have but one. Because you can't live everywhere. And the only life I'm sure of is this one. It was time to slow down the pace.
My deceleration occurred in Nepal. Hesitantly wondering what I wanted to say with my pictures, sometimes addressing social issues, I started to go back there once or twice a year. There were many reasons to that. My familiarity with the country. Its beauty, in spite of its endemic misery. The friendly, tolerant Nepali people, in spite of the asphyxiating social codes and of the resentments revived by the war. The Nepali language that I know better than any other. An easiest accessibility than Central Asia. And finally, intimate, hidden reasons, of which I probably still haven't understood the full extent…
Photography as a language
Everything changed dramatically in 2001 in the wake of a photography workshop taught by former Magnum photographer Lise Sarfati. She literally disclosed to me the toolbox that was dormant in my mind. She opened it in front of me and showed me how to use it. It was like she had taught me how to speak. I went back to Nepal again with that language on the tip of the tongue, so to say. I rediscovered the country, this time well in the present. We were in the middle of the civil war. Kathmandu was peaceful though. I took pictures of its everyday life. I spoke for hours with young Nepalis about their hopes for their future. Then I took their portrait inside their room. These pictures were totally new to me. Since then, yet with a great slowness, imitating Sarfati for some time before freeing myself from her influence, I have been adjusting a personal photographic language, on the edge between documentary and poetry.
Nicolas Bouvier
In the meantime I had come across Nicolas Bouvier's masterpiece, L'usage du Monde (which has been published in English as The Way of the World).
A few words just to recall the story.
In 1953, Swiss writer Nicolas Bouvier leaves Geneva in a done up Fiat Topolino for an eastbound journey, with India as a far-off horizon and no intention of returning. His friend, the painter Thierry Vernet, is waiting for him in Belgrade. From there they make their way together to Kabul with, as a sole luxury, this tiny car and a slowness that they simply transform into an art. Vernet leaves Bouvier prematurely. Bouvier goes on. His trip ends in Japan more than two years later. The way of the World tells the story of the first 17 months of this marvelling drift from Switzerland to the Khyber pass on the Pakistan-Afghan border.
Reading The way of the World has had deep consequences for me. To paraphrase Nicolas Bouvier ("One thinks that one is going to make a journey, yet soon it is the journey that makes or unmakes you"), I could state that if I thought that I was going to read The Way of the World, soon it was The Way of the World that wreathed me and had got hold of me.
After I read the book, partly in Iran on stretches of the road it describes, I couldn't read anything else for some time, and soon I couldn't read anything at all any more. I was stuck again. Bouvier has a way of squeezing out each moment of happiness till the very last drop and preserving the product of this distillation in the phials of his memory in order to draw on it for his survival each time that happiness can't be found… I understood so intensely what an enormous turmoil it must have meant for Nicolas Bouvier to fix this journey forever in the scarcity of his words: words so perfectly made one for the other, that it soon became intolerable for me to not be him, at the time and the place that he says in the book.
I had to exorcize this book. I had to try, to paraphrase Bouvier again, to "unmake" The Way of the World. That's to say, to rid myself of this book as an obstacle, and to strive for reopening it as a companion. Others, dealing with the same question, had the chance to sort it out face to face with Bouvier. This is not the case for me. He died in 1998. At that time I hadn't yet been completely obsessed by his book. Years later, when it became pressing to offload the weight, seeing that Nicolas was long longer there, the only action I was capable of was to set out again, but this time for the whole journey. Obviously, my desire to stop passing through countries and to focus on one single place was going to be subjected to some deferral.
From November 2004 to August 2005, with my wife and our 3 years old daughter, we took The Way of the World's route with our car, from his widow's home in Geneva through Yugoslavia, Turkey, Iran, Pakistan and Afghanistan. We did so without sticking to Bouvier till the very place he went, the very words he used or the exact landscape he pictured. And especially not – unavailing and pretentious ambition – in the footsteps of Nicolas Bouvier, which have long been obliterated by the wind of the roads… Instead I worked to bring up to the surface the emotion that his book has caused, and tried to gather a bit of this poetry of the world that he cherished, and finally to recount our own journey with the tools I had learnt from Sarfati, and made become mine by my experience in Nepal.
Nicolas Bouvier's writing resembles an unremitting attempt to erode the self, aiming at nothing but its disappearance. He said in an interview (I quote from memory): "If you travel with an oversized ego, you cut off the view on the landscape and no one can see anything any more". He worked hard to polish his writing down to the point of transparency so as to compose what he named his "modest icons", so limpid that they allow the unseen to filter through them. Bearing this in mind we devoted ourselves, month after month, to meet the persons that Bouvier could have met, had he undertaken his journey in 2005: artists, exiles, farmers, simple people…
For a few hours or a few weeks, we plunged into the depth of these lives, staying with families, searching for wonder amid frugality and oblivion… My relation to the other and to photography evolved again then. The meaning of photography was no longer to paste my own version of clichés on teenage reedings, draining off the frame from everything that didn't match with these readings as a sole escape to the deceptive aspects of the present. Neither was travelling a support for a photographic work, say, on the changes that occurred in these countries since Bouvier visited them. Neither was I trying to imitate Bouvier in any respect. He was only a trigger. A revered trigger for sure, but not a model. Photography simply began to be the vehicle for my own imaginary. Thus potentially for the reader's. In this process, shooting was only taking place secondarily to life, at the end of the time spent somewhere or with someone. And if there was a risk that it could replace or hamper life, then I preferred photography not to happen. This is still the case today.
That was an important revelation. Not only did my practise change, but I also discovered an appeased relation with failure and with the idea of "not to do". Whereas previously I wouldn't understand why a travel should generate disappointment, henceforth I started to think that travel begins to be travel only when you can accept disappointment.
But if photography does take place however, the shooting never lasts more than a couple of minutes. The photograph is already in my mind. I have let it shape itself, without intervening, during the time that I was simply present at life going on.
Which doesn't imply that I consider photography as the icing on the cake. If it has some link with the cake, it is rather an allegorical one: a relation through which I lean on the real to make it tell more than it tells and become a revealer of emotions, thoughts, beauty, melancholy, etc. possibly linked to that real, but not necessarily.
For instance let's consider the picture of my daughter Olga in the public baths of Vranje in Serbia in February 2005.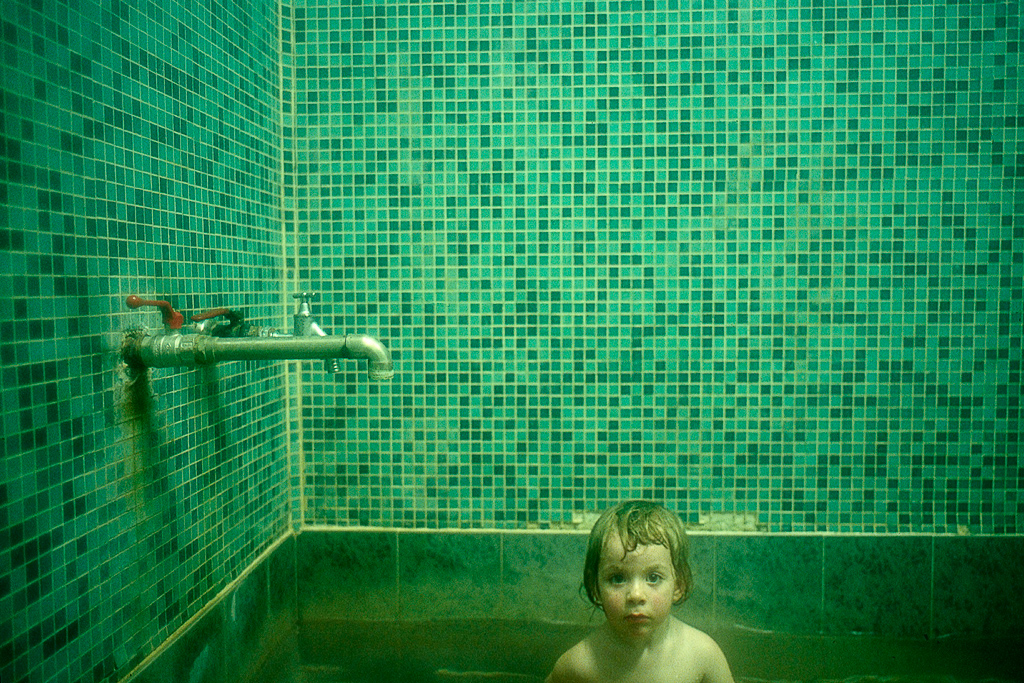 It can be a substratum for a wide array of interpretations depending on the viewer. Or it may not, of course, but let's assume it is. Without a caption, it can be just what it is: a child in a bathroom. And if the picture touches you, it can speak about deeper thoughts, like what it is to be a 3 years old child in an over-dimensioned place, or simply what it is to be a child. If now I explain when and where it is, it can acquire a sociological, architectural, historical or documentary dimension. But it can also speak about the pleasure to travel. And from my daughter's point of view it can recall memories, or just tell how strange it is to see your father naked with a camera in the hands taking a picture of yourself through a mist of condensation in a green bathroom two thousands kilometres away from home… These are just examples. In fact it speaks about anything the viewer who enters the image will take the time to let surface in his mind. That is what I believe photography is made for.
L'Usure du Monde
The outcome of this work is a dialogue between my texts and my photographs, that has been published as a book in 2008 by Le Bec en l'air, in Marseilles, under the title L'usure du Monde. This is of course a play on the meaning and on the sonority of the two French words usage, which means "custom, habit" or "the action of using something (a device, a language…)" and usure, which is in fact the result of the previous and means "wear, erosion". A possible translation of this title could be "the erosion of the world" or, if we try to sound closer to the English version: "the waste of the world" even if this is rather pessimistic. Note that the German title of Bouvier's book is Die Erfahrung der Welt, which is best rendered as "the experience of the world". Another interpretation again. This is to state that Bouvier's work is a very rich and subtle chef-d'oeuvre, which claims its polyphony from the very first words.
The need to settle up with Bouvier has always been absolutely sincere. Nevertheless it is not by chance if, as an epigraph to my book, I put this quotation form Bouvier's (translation is mine): "One mustn't forget this: in every undertaking there is a part of untruthfulness that, once the goal is attained, turns into a truth".
At the time of the writing of my book I probably wasn't conscious of what I was referring to by choosing this sentence, or I didn't want to be. But I certainly suspected that my obsession for Bouvier was not the only ground to the journey. Be it as it may, nearly ten years later it is now clear that one of its truths was the wish to fulfil the dream I didn't dare to make come true in 1994: to drive from Europe to Kathmandu overland. Which sounds immediately more prosaic and less like another occasion to rack one's brains.
Although Bouvier's book and mine both end at the Khyber pass, this is no place to linger, especially not in 2005. We drove on to Lahore, crossed the Indian border at Wagha, went uphill to Dharamsala and Manali, then drove across the three 5,000 meters high passes to Leh, the capital of Ladakh, then we went back to Delhi through Srinagar. All that in a mere production Fiat car. The journey had lasted for 10 months. We were exhausted. We shipped the car back to Antwerp and ironically did the last stretch to Kathmandu by plane.
Slowness, relation to the other
It was a very beautiful journey. We met wonderful people. Some of the pictures I took became important landmarks for me. The triangular relations between photography, alterity and travelling attained a certain maturity. I was lucky enough to be published by one of the best French publishers of photography. The conception of the book with its director was one of the most inspiring experiences of my life. She became a close friend. The book was acclaimed and sold out. We are still, many years later, proud of what we have done: a book that improves with the time and that does not need any media stimulation to be a book.
But every voyage has its sombre part, too. The most difficult to accept was the sadness to leave people, whom we had only known for a few weeks and with whom we had just lived such an intense and intimate time. Still today I don't understand what can justify the sorrow and the confusion we felt and impose on others by leaving them. Of course the happiness that we shared should have been a sufficient reason. It was not. If we were happy together, why did we quit them? Why? Because we were travelling, and they weren't. That is the truth. And this truth was no longer satisfying. The necessity for slowness is certainly the main conviction I inherited from Bouvier. It is still valid. I made it mine. But with such an enthusiasm that even a slowness like Bouvier's in The Way of the World seems to me too rapid now. Our journey finished to persuade me that if I wanted to keep on travelling and saying something about the world, I would have to dig in a reduced part of it. This is when my current conception of travelling crystallised in the form of a "momentary sedentariness elsewhere". Hence a shrinking of the road down to the point of its abolition, and its fusion with its goal: a distant world which be the place of a true exchange with the other, as egalitarian as possible, promised to lasting and growing.
A pretext to address and dream the road
From 2006 on I went back to Nepal, again and again and exclusively. I pictured myself as a photojournalist for some time. I worked for NGO's on subjects like famine in the west, post-war reconstruction, reinsertion of the former maoists combatants in the society. I covered the elections of the Constituent Assembly and the birth of the Republic. These pictures wouldn't sell at home but were sometimes useful on the field locally, which was gratifying. But not enough. I later understood that, if photography certainly can tell the mutations of a country by trying to stick to the very facts, making arrangements with the elusive idea of truth, this was not a job for me. So that I renounced any journalistic intention.
My relation with the country evolved, too. A lasting friendship arose with a group of photo enthusiasts in Kathmandu. Every year now I am teaching a workshop for young Nepalese photographers entitled "photographing the everyday". This is a motivating exchange. I share my knowledge about my practise with them. I try to give them tools to express themselves. Which is uncommon for young Nepali girls and boys. Their society is guided by a set of religious beliefs and social constraints that give no incentive to speak up, among which the right of primogeniture and the fact that any action would only be seen as the confirmation of what has always been. But in these workshops they speak, with words and images. By creating a series of photographs that evokes how they perceive themselves in their daily environment, and by discussing their pictures together, they open their heart and their intimacy for me, of course not disclosing every detail of their life, but giving me access to a comprehension of the country that would be inaccessible if I was a mere traveller. This way, photography is effectively a tool I can use to reinvent my relation with the road and with the otherness. And in the meantime I didn't stop taking pictures for myself, with my personal language. Rather than sticking to the facts, I felt that I was able to better document what was at stake by looking just next to the facts, or under them, or behind them, or who knows where else in their vicinity. Staring at the afterglow of the reality, drifting away in its faint lights, I could search a new territory for the manifestations of another truth, a truth less confident of itself, less complacent: a doubt, to sum up.
Photography then began to be a matter of sounding out the banality of the everyday, being available enough to recognise the fragments of poetry which will let themselves be approached. By filling the frame and, even more, the outside of the frame, with these Everyday Epiphanies (the title of my Nepali series), I transpose the ordinary into apparently heterogenous units of a language that I need to accept not to wholly comprehend but that, image after image, draws the borders of a universe that is more acceptable to me than the reality. At last! I am now utilising photography to tell how I see the world, rather than trying to tell what I think someone wants me to tell…
But is photography then about Nepal or about myself? I like this question. My current answer goes as follows (but it sure will evolve): photography is a pretext to be in Nepal, which is a pretext to formulate my vision of the World – the three faces of the coin, if I might say, being equally honest and important.
The word "pretext" has to be understood non-pejoratively. This statement applies well, for instance, to the book about Belgium that I published at the end of 2012, called Brumes à venir (which means "Mists to come" – and is taken from Jacques Brel's song The flat Land). From 2008 till 2012, for a day or a month, I did dozens of trips to Belgium with this question in mind: does Belgium still exist? I worked to gather scraps of answer to that question. But after a while I understood that it was just a pretext to go back to my homeland after ten years of expatriation in France, and to rake up the humus of my twenties to see if there was something left of it. So my interest for the documentary question I raise is deeply sincere, it is in my mind while I am working, but sooner or later it doubles with a more personal undertaking. It is not a matter of putting up one truth against another, but rather to achieve the alchemy of both.
Nepal
This is the same with Nepal. Why Nepal? Why have I gone back there endlessly for about twenty years now? As an answer I was long able to formulate nothing but beginnings of speeches about the youth, its rather sorry energy, its smiling resignation… Nothing consistent nor convincing. Disorder. I was faltering. This "why" was lying in a nebulous angle of my mind. Then I held back for a moment on this word, "disorder", and questioned it, and I realised that it governs slightly more than a mere angle of my head.
I also noticed a certain match between my own disorder and the one that controls these towns and villages where I keep coming back, season after season. A certain match with this territory that does not know the void and where auspicious stones have been erected in the few places that were left virgin by the secular hustle: this territory that appeases me.
Descending from the airport each time I return, shaken up by the traffic jam and the insane driving, suffocated by the racket, the lead and the nitrates, I simply slip into a world where I already exist, soothed in the shadow of its chaos. A world in which I feel recognised. A glance, a dog, a twisted line of ragged walls, a pond, a ladybird on the half-open window of the car, a butcher's shop on the pavement, the spasms of a bus, the light burn of the tea on the lips… I receive them as a solace. Death, violence, fever, the air drizzling with dust and heavy metals, the overload of the space: nothing offends me. I am in the right place. A place that is searching for balance, a balance between order and disorder. Between fiction and reality.
Why Nepal, then? For the same reason as with the roads of Nicolas Bouvier or with Belgium: because a conjunction of circumstances make that I have found there a reality on which I can lean to create photographs that help me to cope with the tiny discomfort of being a passenger of this Earth.
---
Photograph: Gatlang, Rasuwa district, Nepal, February 2015.
Series Explanation, peace, oblivion.
---
I wish to extend my gratitude to Dr Jean-Xavier Ridon from the School of culture, languages and area studies and Mike Heffernan from the School of geography, University of Nottingham (United Kingdom), at the invitation of whom these ideas were gathered and this text was written.
Download the illustrated bilingual version of the lecture in pdf format.
---